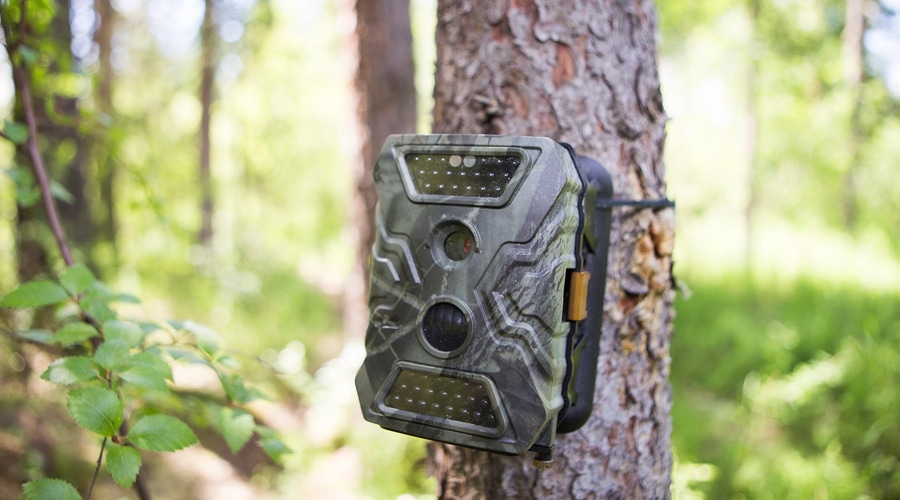 How do cellular trail cameras work? Short answer, they are cellular capable and work via a network with a wireless data plan.
A wireless trail camera acts as a bridge between the cell phone and the standard trail cameras. Trail cameras feature a SIM card, plans, and the capability to send specific amounts of photos.
But this depends on your payment plan and personal preferences.
This guide delves deeper into this fascinating piece of tech to help you understand more about its capabilities among more relevant information.
How to Cellular Trail Cameras Work?
Trail Cameras and Signals
Cellular trail cameras function almost as similar as cell phones. That's because a trail camera also uses or needs a signal to operate; this means that the camera needs network coverage for it to be able to send data to other hardware.
However, these cameras need network coverage that's compatible with their specific hardware. For example, a Verizon certified trail camera can't send any data if the network coverage is from AT&T and vice versa. A Verizon camera can send data if the network coverage is coming from Verizon hardware.
And like a cell phone, the stronger the network coverage, the more efficient the camera becomes at sending data. But on the flip side, a cellular trail camera can share its data with any active phone as long as the camera is subject to a data plan. That means the camera and the destination cell phone don't have to be of the same brand and makes working with a cellular trail camera a more intuitive and flexible experience.
Cellular Cameras and Data Plans
For a cellular trail camera to be active, it needs to have a specific data plan. Note that there is a significant difference between a wireless cellular trail camera and a wireless Wi-Fi enabled camera.
The latter transmits data via a wireless Wi-Fi network connection that requires no data plans. On the other hand, a cellular trail camera transmits data through a specified cellular network, hence the data plans. Some of the industry-leading names that provide cellular network coverage for trail cameras include AT&T, Verizon, and US Cellular, among others.
Cellular Trail Cameras Battery Reliability
Unlike standard SD card cameras, cellular trail cameras consume more energy when in use. Therefore, you need a backup battery support to ensure the camera doesn't go out on you abruptly.
It would be good to attach a solar charging device as an external power source for charging the trail camera; it will improve the camera's efficiency and performance while minimizing the operational costs.
Trail Cameras and SIM Cards
Every cellular trail camera is subject to the Global system for mobile, otherwise known as GSM in the current market. And for any GSM devices to actively operate and deliver the needed transmission of information, they need a Subscriber Identity Module (SIM).
Like in a cell phone, the SIM card is inserted into a trail camera and picks up stored data, location, and user identity. A sim card is also applicable in authorizing the use of a wireless provider's network.
Therefore, all cellular networks come already loaded with a sim card inside. However, you'll still need to activate the sim card to start using the trail camera; this will enable data transmission from the device to the network provider's cell tower.
Things to Consider When Buying a Cellular Trail Camera
Now that we've answered how do cellular trail cameras work, let's examine what you need to look at before buying one.
Cellular Signal
Before purchasing a cellular-enabled trail camera, you need to first ascertain the strength of the signal providers. If there is more than one network provider in your area, look for the one that delivers the strongest signals and go with them.
You also need to decide on a plan that suits you best based on your preferences and budget.
Battery Life
Generally, trail cameras come with either lithium or alkaline batteries fitted inside. As you may know, alkaline batteries are pretty standard because of their affordable nature and decent capabilities.
However, lithium batteries perform close to five times stronger than alkaline batteries. Moreover, the former can work effectively and efficiently under harsh weather conditions. Besides that, you can also back up your camera with a solar-powered charging device, as earlier explained.
Storage Options
With cellular cameras, you get two types of storage options, including local and cloud storage. Using local storage doesn't require any subscription, unlike when using cloud storage. However, it's very easy to lose data when using an SD card on your trail camera, unlike cloud storage.
Notifications
Because you depend on the camera to notify you if they detect something, notification is another significant consideration when buying a cellular trail camera. You need a camera that can immediately send real-time notifications depending on your preferred settings.
Weather Resistance
When talking about weather resistant trail cameras, it's mostly about the camera being more water-resistant. Because the trail camera used for hunting is out in varying weather conditions, you need to find one that can withstand any pressure thrown by nature to limit its functionality.
Night Vision
Lastly, you need to consider a camera with strong night vision capabilities to capture what you need during such times. Remember, a lot happens during overnight hours, and capturing such moments is a great way to pick up the information you need.
Conclusion
Whether you'll be using a trail camera for hunting purposes or monitoring your vacation home, these cameras can be really fun to use.
Again, you still have to consider the above-detailed factors before purchasing a trail camera for yourself. Remember that your primary goal for buying the camera should be the first consideration. Knowing your purpose for the camera enables you to select among the many options based on your preferences.
So, ensure that you consider what we've looked to find a camera that will match your functionality expectations.